Aprajita. S. Chadha
"Relationships and interaction with one another keeps changing with technology that opens a world of infinite possibilities. Connections. Vibrations. Moods, the Old and the New, have always interested me. Shapes. Forms. Lines, Colours when added to thoughts of the above create an ever changing world. The fascination and excitement of those changes conceptualized through painting is where I feel most at home and makes me take the brush to the canvas."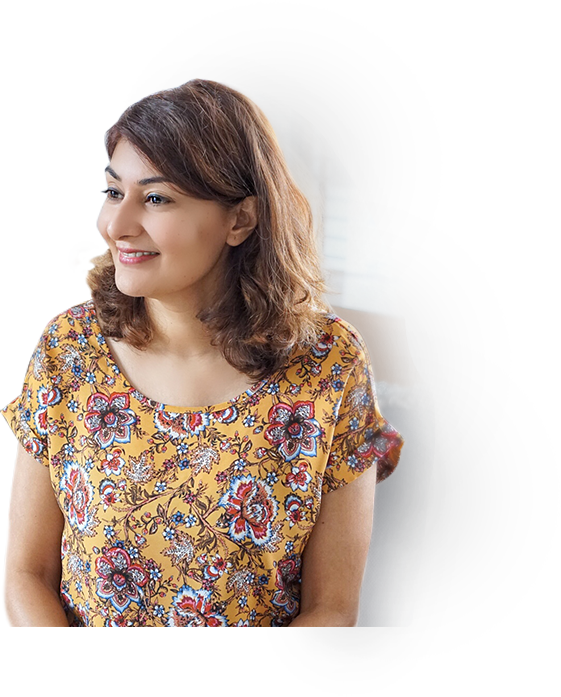 Aprajita was born in Mumbai, India. She pursued her art at an early age and studied Textile Designing. She continued her work in arts and designing at an Export House after graduating, after which she worked on textiles using block prints supplying to both shops and private consumers.
After getting married in 1995, she moved to Tokyo. Japan where she continued to open up and broaden her knowledge and experience in new techniques in art. She learnt the Japanese art of Sumi E – Japanese ink painting studying under Ohta-sensei of the Kyoshin-Do school.
Upon moving to Singapore, Aprajita continued to educate herself in various art techniques. She studied at the world renowned art school, The Lasalle Institute for 6 months and further developed her style in abstract modern contemporary work.
While originally using mostly oil paints, she started to explore the use of mixed media and acrylics in her works. Painting in mostly abstracts styles, Aprajita's recent collections focus on the convergences of the modern ideas of technology and our relationships amongst this new chaos.
Aprajita has exhibited in group shows in Tokyo, Singapore, Dubai, Paris and Brussels.
Exhibitions & Shows
---
1997
Tokyo
2011

Volvo Showroom
2016

Voices
2018

World Art Dubai
2018
Tatinis
2018

Art Shopping Paris
2018

Sweden