Hitching on the initial success of its former three runs, the Tatinis Art Show has taken its proceedings up several notches in its fourth installation held on the 1st to 4th of June 2018 at the F1 Pit Building. Tatinis' initial footing into commercial growth was that of an online marketplace offering more than 800 artworks into open currency by budding artists to industry heavyweights, both locally and internationally. Made to be indisputably accessible, Founder and CEO of Tatinis Ruby Gupte is on a mission to remove the social stratifications of art appreciation and bringing affordable art to every home.
While preserving its intent of being the largest e-commerce platform for art dealings, Tatinis has undertaken a more tangible approach in its endeavor through art shows, events, and exhibitions at places of prominence like the Art House and Deck in a little over two years. And yet, a quick comparison to the previous shows by Tatinis reveals an apparent transition from a pop-up exhibition with a handful of artworks to a full-fledged art fair across an exhibition space of 12,000 square feet. A booth-allocation system allows for artists to manage their works while acting as direct touchpoints for visitor interactions. Priced from SGD$75 to SGD$6,000, the range of original artworks by 33 artists across 16 countries upholds the Tatinis ethos of providing affordable and accessible art to the masses.
Aside from show's principal focus on the exhibition, guests were treated to special themed sessions with free admissions over the three days. The "Fashion Meets Art" segment featured an end-to-end display of a fashion show, disclosing the backstage shenanigans as the makeup artists and designers prepared their models in full spectacle for the public. A guest debut by local art supply store and studio Umistrong tuned up the eclectic mix of events through the display of works by their students aged 3 to 17 years old. The collaborative effort between Tatinis and Umistrong took on the form of an Art Jam sessions held on the second day, with painting workshops catering towards the age gamut, children and adults alike.
Stated emphatically by Ruby, the art show underscores the potentials of individual artists instead of a collective effort by the galleries, as opposed to other distinguished art fairs held locally. Even so, the appearance of several galleries like Eyemage Gallery and Exquisite Art anchors the exhibition's prominence for the community of committed art patrons and investors, including a maiden visit to our sunny shores by Dubai-based gallery ZeeArts. Of course, there is a handful within the myriad of talented artists whose works and practices are deserving of notable mentions.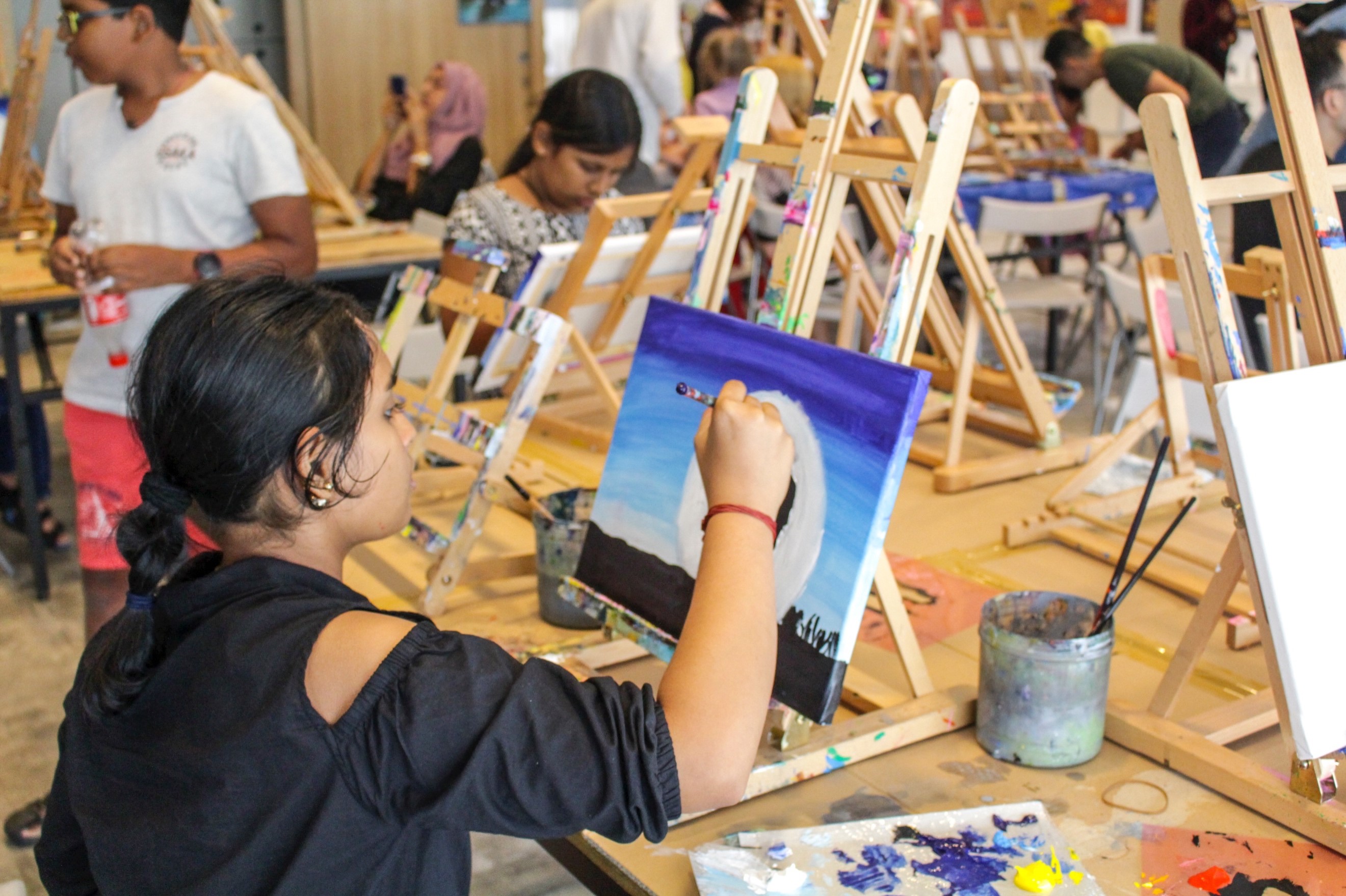 Titled The Business Hub, this series of 4 paintings are the result of ZeeArts curator Zaahirah Muthy's take on the progression and evolution of the social infrastructure of an area in Dubai. As a mixed media artist hailing from the island of Mauritius, Zaahirah has employed various materials which can be found on site within her work to simulate the construction process of the buildings. Bold and swift strokes of paint applied using palette knives echo the tumultuous state of the commercial centre while providing certain depth to the buildings as her subject, coupled with her selection of colours that accentuate its vibrancy. The artist draws her parallel of Dubai's Business Hub to Singapore's Central Business District, whereby her paintings are marked with greater significance in the local context with their presence at the exhibition.

One of the more imposing works due to its sheer size belongs to Vietnamese artist Lê Tuấn Anh, or by his preffered monniker "Le Tuan Ry". Spanning nearly 4 metres across and measuring 1.8 metres vertically, Song of the Land is a triptych mixed media painting bearing Ry's signature style. Heavily referenced on the Japanese phenomenon "hikikomori", whereby adolescents or adults seek extreme degrees of isolation and withdrawal from social life, the 25-year-old painter alludes his residence in Singapore upon graduation to such a condition faced by about 700,000 individuals in Japan. The process and conceptualization of the pieces are thoroughly experiential, so much that the artist an entirety of two weeks within his bedroom doubled up as a studio to churn them out. Staying true to his artistic practice of stressing on ideas of the ground which stem from Buddhism and meditation, Ry infuses natural substances from the earth into his paintings as natural pigments, along with larger particles that contribute to the treatment of its surface texture. The translation from contextual viewpoint to the abstract flow within the work is all too familiar with those who are accustomed to Le Tuan Ry's eccentric and evocative nature.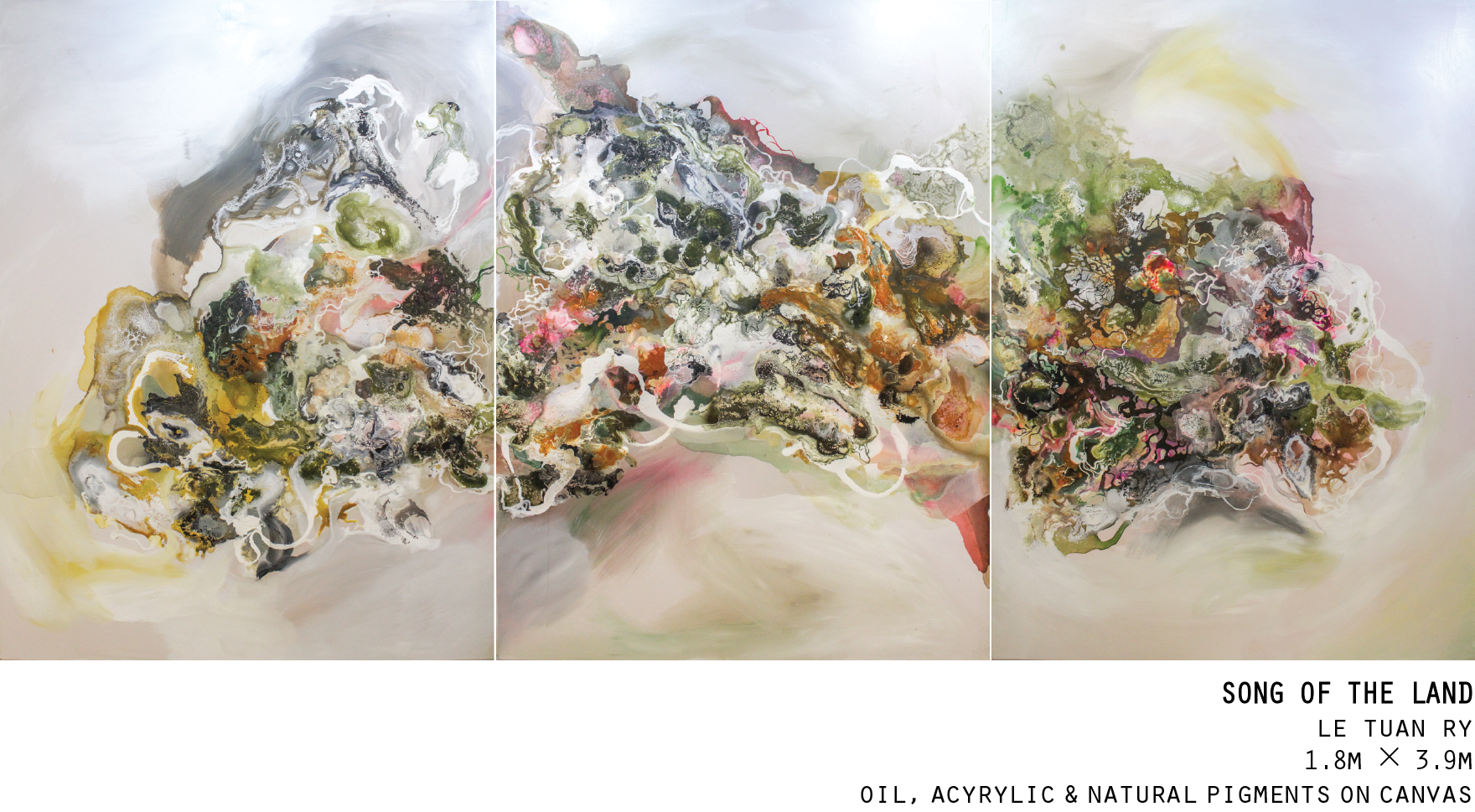 It came as a surprise to recognize a familiar style of the early 20th century Cubism within the fair. Considered to be among the most influential art movements of the 20th century, it is no wonder Singapore-based artist Aprajita Chadha has adopted it as a core element within her artistic practices. Aprajita's painting collection lays bare her concerns and perceptions of "the ever-changing relationship between humans and technology reflected in the ever-present role of artificial intelligence and captured through shapes." While oil may have been an initiative medium, Aprajita veered towards acrylics as a medium over the past couple of years. With a stylized incorporation of techniques in The Balancing Act of Life, the composition of juxtaposed elements conveys a transcendence of thoughts from the unintelligible of the marbling into organized shapes which are more balanced in their forms. This piece serves as an implication towards our over-reliance on yet necessitated by the use of technology to keep our lives in check and organized. Aside from her primary medium of acrylics, Aprajita's other paintings have been gilded with gold leaves that elevates the opulence and modern appearance which she pursues within her works, all while probing the perceptions of her audiences towards the suggestion of the dominantly-metallic computer chips and parts within machines.
As the interview with Ruby Gupte developed towards the notion of art investment, the organizer articulated that the artworks of several senior artists within the fair are worth investing in. The CEO of Tatinis who has purchased a handful of artworks for herself from the artists present further advised that new art investors may consider the experience and the portfolio value of the artist before purchasing the works, but it is ultimately dependent on "whether you like it or not." Moving forward, the next Tatinis Art Show is due to host its next art fair in Sweden some time later this year in July, followed by its return to the local art scene in May 2019. Tatinis has their calendars planned with exhibitions and shows back-to-back till next year, and it will only be prudent to watch their space as we grow alongside their developments towards being a recognized industry brand.